Earlier this year, the government announced plans to release a new Digital Strategy in response to the seismic change that has torn through the UK. The true value of modern technologies had become only too apparent; as Secretary of State for Digital Oliver Dowden said, it's technology that "kept our economy ticking over".
Across the public sector, services and operations have been digitalised extraordinarily quickly. Parliament has met virtually. Parts of our healthcare and education systems have been reimagined for a remote world. As Microsoft CEO Satya Nadella put it in April, "we've seen two years' worth of digital transformation in two months." The government's updated Digital Strategy will be welcome; a clear roadmap is needed to help the UK economy navigate what comes next.
We wanted to understand how public sector leaders were thinking about digital transformation after several months of adjusting to the 'new normal'. Throughout October, working with YouGov, we surveyed 247 public sector organisations. We asked about their tech priorities, challenges and concerns.
Our findings paint a picture of a sector that is pressing ahead with digital change, wary of cybersecurity threats and understandably concerned about the financial implications of emerging from the pandemic.

We've seen two years' worth of digital transformation in two months.
An optimistic digital future
Every two years, the UN ranks its 193 member states by how advanced they are in terms of digital government; things like the quality of online services and telecoms infrastructure. This year the UK was ranked 7th., very much among the most advanced globally. The UN praised the services provided through the Gov.uk portal and the detailed "citizen-centric" strategies the UK is putting in place.
While the public sector has yet to fully shake a reputation for being slow to modernise, in many respects the UK's digital public services are among the best in the world.
Our survey reveals plenty of reasons to be optimistic about the sector's digital initiatives in the future, too. We found the public sector's tech investment strategies for the next five years are well organised, despite the challenges of the past few months. 30% of those we spoke to said their strategy was either completely or mostly planned. Only 14% are not planned at all.
A high number of respondents (43%) said digital transformation was already in their plans. And looking forward, digital transformation jumped out as the sector's single biggest priority for the next five years. For citizens, recent examples of digitally transformed services are too numerous to mention. Anyone who has had a doctor's appointment or submitted their homework digitally will understand this, not to mention those who have used the test-and-trace app on their phone.
But our survey also sheds some light on digital transformation plans that go beyond new front-end services. Our panel said its priorities for the next five years were on automating systems (36%), centralising data gathering (36%), and capitalising on data with analytics (33%).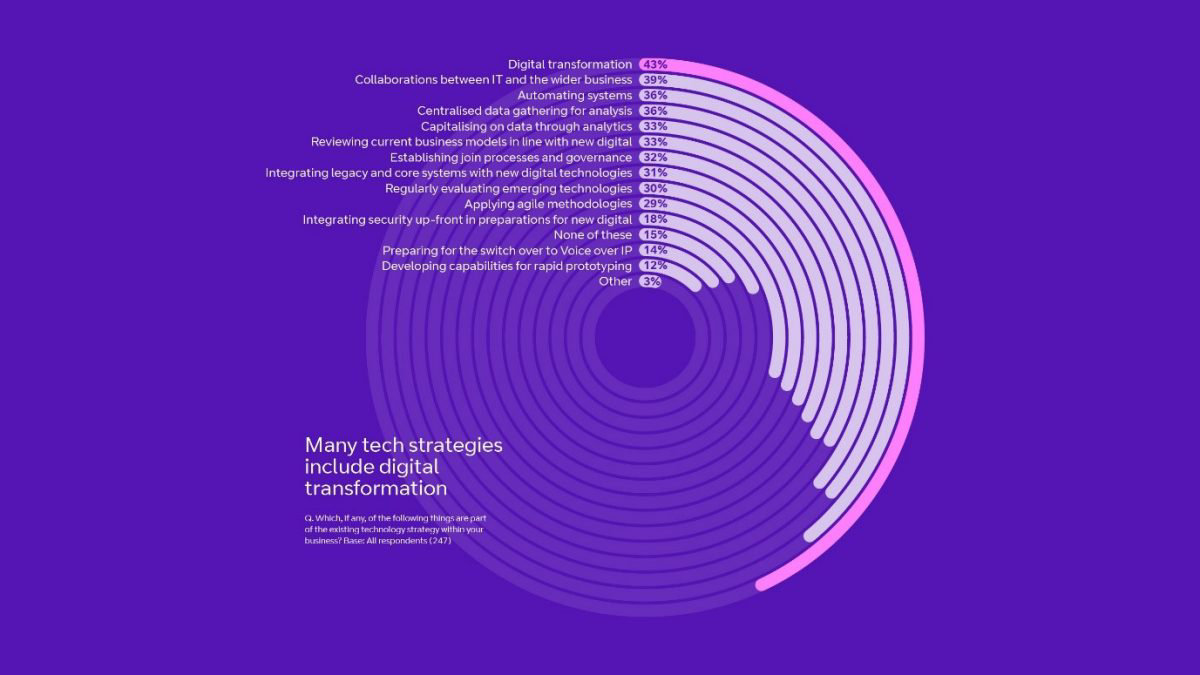 This bodes well for the future. As Mike Stone, KPMG's global head of tech transformation for infrastructure, government and healthcare wrote recently: "There is increasing recognition that data is a critical and under-utilised asset in government. Data analytics offer the opportunity to deliver insights regarding citizen customers, the organisation or potentially adversaries and enable evidence-based decision making."

New and emerging technologies
Data from market intelligence firm IDC shows the UK government is spending more than 20% of its total ICT budget on cloud and digital technologies – the most of any major European power. The next is Germany with 16%.
As we emerge from the pandemic, it'll be interesting to see which new technologies are adopted across the public sector in the coming years. To get a sense of this, we asked public sector leaders about 14 specific emerging technologies (*see full list at end of article) to see which were currently being used and which featured in their future plans.
Firstly, we wanted to gauge awareness of these technologies, and found that it's relatively high. As you might expect, 89% said they'd heard of 5G, 87% 3D printing and 83% virtual and augmented reality (VR/AR). But even at the lower end, more than a fifth are familiar with as-a-service solutions (21%) and edge computing (22%).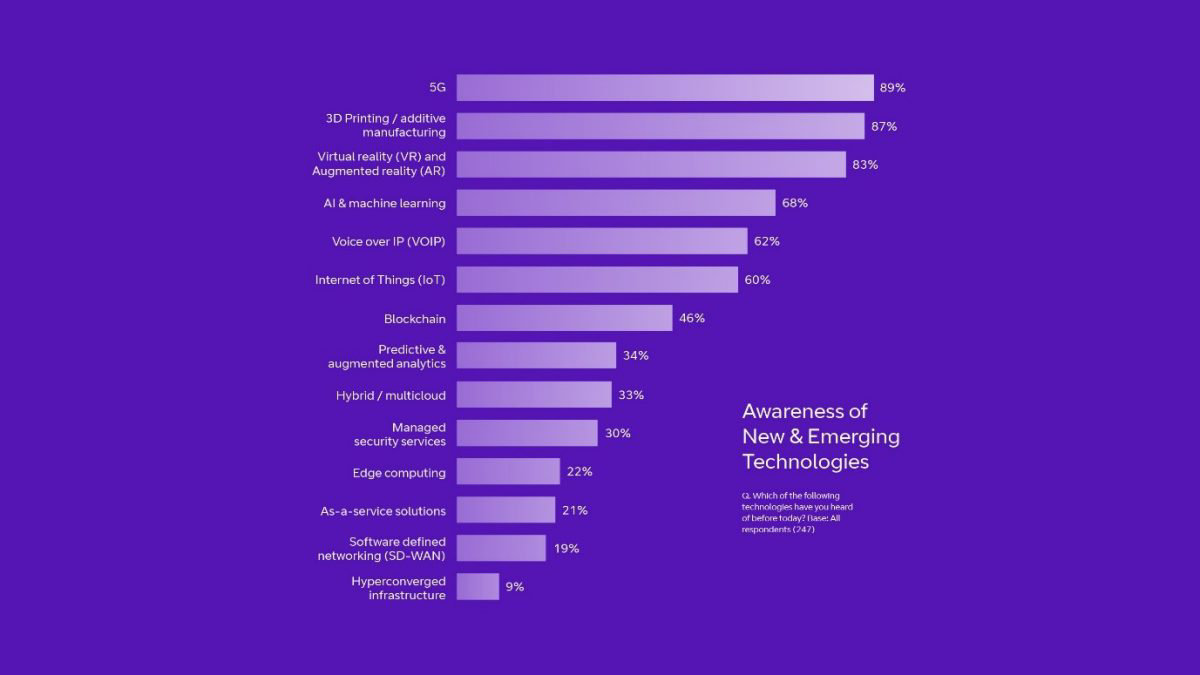 Adoption rates for these technologies are also quite high. We found almost a quarter (23%) of those we spoke to had adopted 3D printing. This is most likely because of its exciting potential uses in the healthcare industry. The next most adopted technologies are VR/AR (17%) and artificial intelligence (AI), also at 17%. That nearly a fifth of these organisations have already adopted these technologies points to high degree of innovation occurring within the sector.

And, as plans for the rollout of 5G in the UK continue apace, 6% of the organisations told us they were using it already – and 25% intend to adopt it within the next five years.

Overcoming the barriers to transformation
What are the main blockers of digitisation? While new innovative services are appearing all the time, according to McKinsey, the reality is that many transformation efforts struggle to deliver on their stated objectives.
We asked about the challenges the public sector was facing. We wanted to understand the obstacles that stood in the way of these organisations achieving their digital transformation ambitions.
Among the key findings, 30% of those we spoke to cited legacy technology as an ongoing challenge. Old infrastructure in the public sector has been well discussed and remains a concern despite huge strides having been made to bring it into the modern day. It's important to note though, that while it may continue to hinder full end-to-end digitisation plans, it hasn't prevented the sector moving crucial public services online in response to the pandemic.
Skills shortages was an issue for 38%, particularly around specialised roles such as technical architecture and system integration jobs. And, security is a growing concern; 67% said the cybersecurity threat level had increased over the past year, and 59% said the cybersecurity-related workload has risen.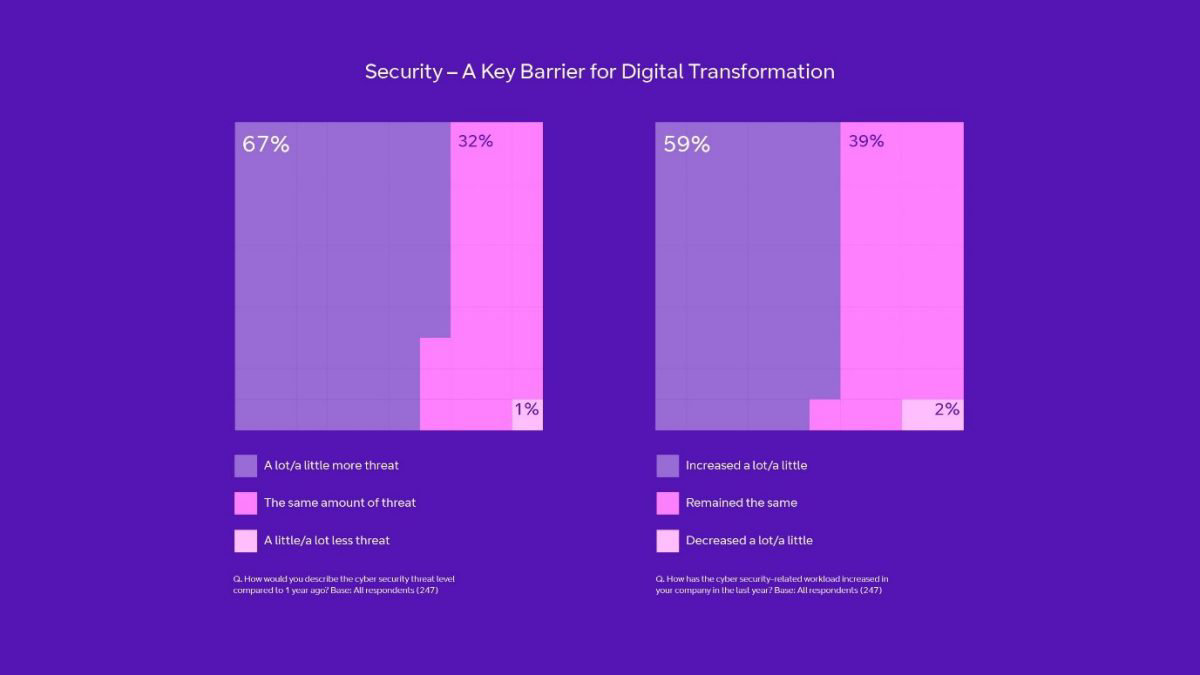 None of these findings would come as a surprise to those in power. The government's Technology Innovation Strategy, from last year, outlined many of the same challenges.
The report was upbeat, with stated ambitions to steer the UK into a "bright, modern future". But it was also clear-eyed on the challenges the public sector faces. Like our survey, it highlighted a shortage of certain technical skills (such as data engineers), issues with data sharing between departments and organisations, concerns about security, and problems with legacy technology, among others.
The government is addressing these issues. The Technology Innovation Strategy outlines numerous steps being taken, including training programmes, apprenticeships, a national data strategy and a thorough review of legacy technology. For the first time, the government published a guide to using AI in the public sector. And there was a renewed commitment to nurture the UK's GovTech sector (worth an estimated £6.6 billion), where private sector start-ups and tech firms work on innovative solutions to public sector problems.

Chief among all the challenges facing the sector, however, are budgets. It's very possible that spending controls will be rolled out across certain parts of the public sector in the coming months and years as a result of economic uncertainty. Our survey found more than half (51%) of the public sector leaders we spoke to said they view the financial climate as the main challenge to achieving their objectives over the next five years.
There's a danger that as spending is curtailed, digital transformation initiatives are parked. The risk is that digital technologies could come to be seen as a cost, rather than an investment. But this should be resisted.
As KPMG's Mike Stone wrote: "Leaders need to demonstrate the confidence to maintain the momentum of transformational change for citizens and their workforce, as well as for their balance sheet, rather than retreating to incremental steps. They should not let the shackles of 'industrial age governance' reassert themselves."
Those who are able to invest, he writes, will have a clear advantage. Technologies like 5G will become all the more powerful in light of the increased bandwidth demands brought on by remote working. He adds: "5G is not just the next step in the evolution of mobility, it is a revolutionary leap forward because of its faster connections, ultra-low latency, and low energy consumption... Those who move early are likely to reap major economic benefit."

Making transformation real
With the right investment, the UK is well placed to build on the innovations we're already seeing.
At BT, we have seen first-hand the transformative potential of technology in the public sector. As Fotis Karonis, CTIO of BT's Enterprise unit, wrote recently: "What's really astonishing is the sheer pace of innovation that we've seen… particularly during the peak of coronavirus."
We introduced Internet of Things (IoT) devices into London's Royal Hospital for Neuro-Disability, automating routine checks and freeing up staff to focus on their patients. We  worked with Belfast Harbour to trial the use of Augmented Reality (AR) headsets to help  maintenance staff carry out safety checks. We helped the University of Stirling create a state-of-the-art 'living laboratory' for central Scotland, built on EE's 5G network.
Perhaps the most poignant reminder of how technology can truly benefit businesses and the community is our collaboration with University Hospitals Birmingham. During the pandemic we launched a Remote Diagnostic solution to help transform the way the Trust delivers care to patients, by removing the contagion risk of face-to-face consultations.
As Fotis said: "These examples reinforce the profoundly positive impact that emerging technology has on the way we live, work and consume public services."
For public sector leaders looking to undertake their own transformation journeys, we have a number of resources to help. A good place to start is the article 10 Ways to Digitally Transform by our Managing Director Chris Sims, which features practical tips for those committing to transformation. We also have our public sector site, with lots of content and support on ensuring you make the most of the technology solutions available.
YouGov completed a parallel survey of 247 online interviews with public sector workers. Fieldwork was carried out between 14th and 27th October 2020.