Business leaders know that digital transformation will define success now and in the future. A big part of that will be how well organisations adopt powerful new tech like 5G and artificial intelligence (AI). But when it comes to technology, the pace of change can feel dizzying.
BT wanted to understand UK plc's attitudes towards emerging technologies. Have companies adopted them? Do they plan to? And what holds them back?
Working with YouGov, BT surveyed more than 1,000 business leaders from across the country. The key findings are compiled into The Future in 2020, 'a definitive review of how UK businesses are working with emerging technology.'
The findings paint a mixed picture of how much UK businesses are buying into these new technologies. In most cases, it seems that companies see them as a cost, not an investment.
Coronavirus has intensified the pressure on all companies to digitalise the way they work. Our imminent exit from the European Union presents UK plc with opportunities and challenges. In this shifting landscape, it's crucial that businesses understand how technology can transform their futures. If they don't, they risk falling behind competitors in other countries. But if they do, the UK can build towards a digital-first future with confidence.
Explore the key findings below, and you can access the full report here (PDF).

One of the main issues in UK plc's relationship with emerging tech is very simple – there is a lack of awareness.
UK plc isn't rushing to adopt emerging tech
UK companies have been slow to embrace emerging technology. Adoption rates are patchy, with the exception of voice-over-internet-protocol (VoIP), which is used by 44% of the businesses surveyed.
After VoIP, the next-most adopted technologies are split between those that receive a large amount of hype – such as AI, machine learning and Internet of Things (IoT) – and those that reflect broader trends in technology – such as hybrid/multicloud and as-a-service solutions. But among all of these, uptake peaks at a concerningly low 25%.
Most strikingly, more than 20% of businesses hadn't adopted any emerging technologies. This number jumps up to 32% when you take out VoIP.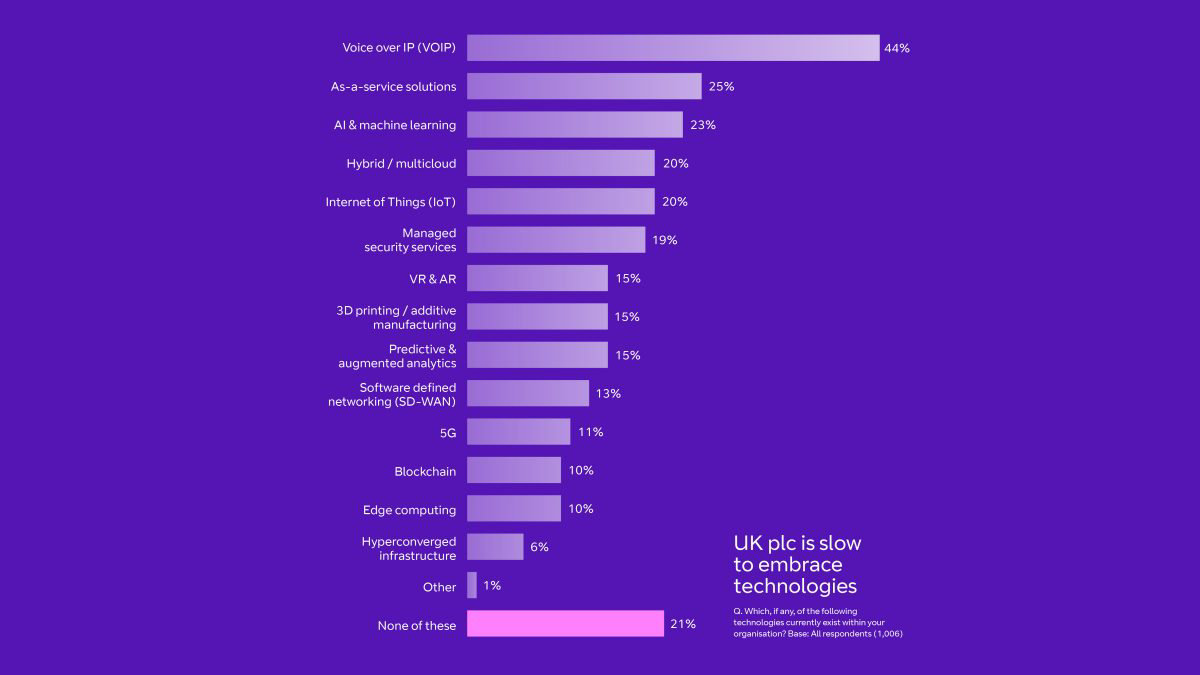 When businesses were asked about their future plans, sentiments didn't change significantly. Almost a third of business leaders don't plan to adopt any emerging technologies in the coming years.
30% said they plan to acquire 5G in the next five years, but there are two ways of looking at that figure. It could be seen as an encouraging commitment to this game-changing technology. On the other hand, it could be seen as oddly hesitant, given that 5G is predicted to significantly boost the global economy.

What's stopping UK plc embracing new technologies?
One of the main issues in UK plc's relationship with emerging tech is very simple – there is a lack of awareness. More than 50% of the businesses YouGov initially approached for the survey hadn't heard of the technologies they wanted to ask about. Clearly it's important not to make assumptions that companies will be familiar with technologies we might imagine to be mainstream.
For example, the survey found that 31% of business leaders aren't aware of AI, a technology that has huge potential to automate operations and improve customer experiences. It's apparent that there is work to do to help UK businesses grasp what these technologies do, before any conversation about how they might help.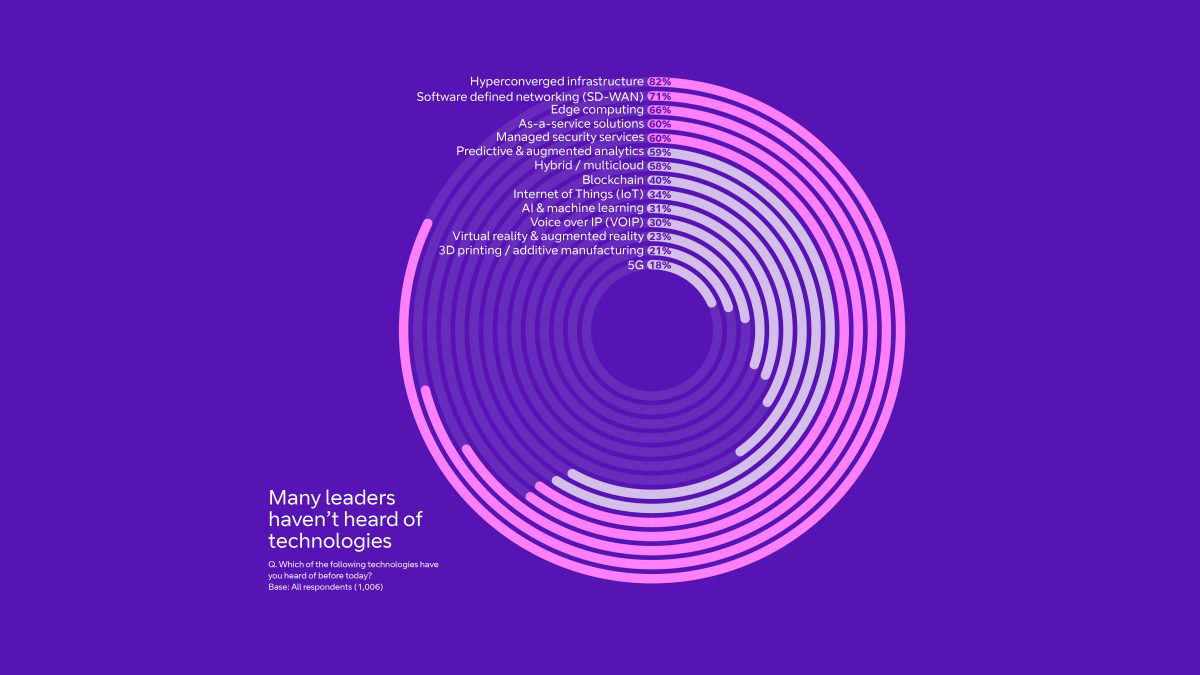 Businesses don't always see how new tech can help
Business leaders share a lot of the same goals according to this survey – increasing revenue, reducing costs, improving productivity and optimising customer experience. The good news is that emerging tech can help companies achieve all of these ambitions. But this message doesn't seem to be getting through. 
When businesses were asked why they weren't planning to adopt new technologies, they gave the same answer time and again – they don't believe they are relevant for them.
For some tech this makes sense. 3D printing has very specific use cases. SD-WAN helps connect large distributed organisations and would be less useful to a start-up. But in some cases, it appears that businesses haven't yet grasped just how useful they can be. The danger is they dismiss them as irrelevant without realising their potential.
For instance, of the businesses looking to increase revenue, only 18% said they felt predictive and augmented analytics could help. However, these can be hugely useful in spotting patterns and anticipating customers' requirements. There is an urgent need to make the connections between these technologies and their business benefits.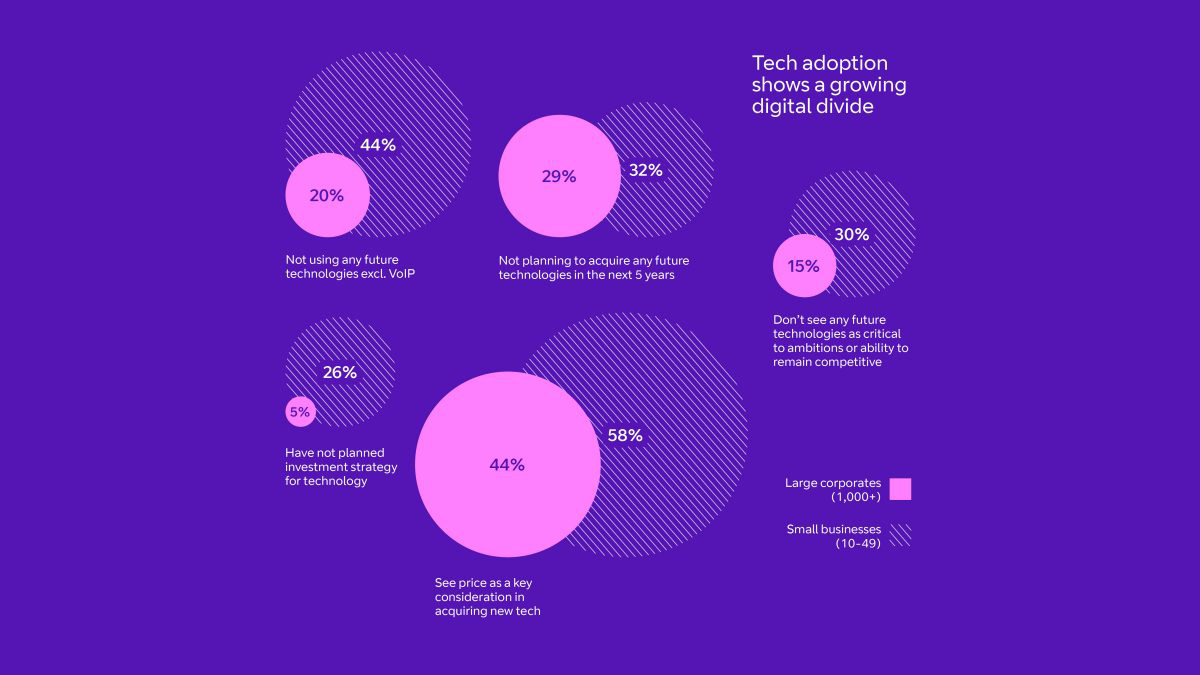 There is a digital divide between big and small companies
The survey uncovered a clear digital divide between big and small companies. If you discount VoIP, 44% of small businesses (10-49 employees) aren't using any emerging technologies, compared to just 20% of large businesses (1,000+ employees).
There are huge variations in specific technologies too. Currently, 11% of small businesses use AI and machine learning, compared to 44% of large companies.
Given that small businesses make up 99% of UK plc, these stats are concerning. And without being addressed, this divide will widen. 30% of small companies said no emerging tech is critical to their future plans – only 15% of big businesses said the same.

Tech adoption varies between sectors too
Different industries have embraced emerging tech at different rates, the survey found. IT and telecoms lead the way by some margin.
At the other end of the scale, hospitality and leisure lags way behind, followed by medical, health and education. It's worth noting that all of these sectors have been very hard hit by coronavirus. For the health sector in particular, finding new ways to work seems crucial given the extreme pressures they face.